Higiene / salud
2015 newest high intensity focused ultrasound hifu

Princbeautye
An advancing new high-intensity focused ultrasound technology designed instrument ,change th e
traditional face lift wrinkle newest surgery ,non-surgical wrinkle technology, the instrumen t will
release highly concentrated focus sonic energy can penetrated into the deep SMAS fascia skin
tissue and coagulation of high heat in proper position,the deep dermis to stimulate the skin to
produce more collagen and thus to tighten the skin ,so the skin becomes firmer.
Working theory of the HIFU
High Intensity Focused Ultrasound (HIFU) directly delivers heat energy to skin and subcutane ous
tissue that can stimulate and renew the skin's collagen and thus consequently improving the texture and reducing sagging of the skin. It literally achieves the results of a facelift or a body lifts without any invasive surgery or injections, moreover, an added bonus of this procedure is that there is no downtime. This technique can be applied to the face as well as the whole body, and also, it works equally well for people of all skin colours, in contrast to that of lasers and the intense p ulse lights
Features of the HIFU
1. Turely face lift treatment, achieve the amazing effects likes face lift surgery in Plastic surgery
hospital
2. Quick & short treatment time : 30 MINS one face treatment
3. SMAS contraction : collagen remodeling , elastine fiber contraction
4. None downtime : skin just become red within the first several hours , then skin recover .
5. Instant result will be checked from the second month to the nine month , good result will
last 2-3 years
6. Totally non-invasive
Comparison with RF and Laser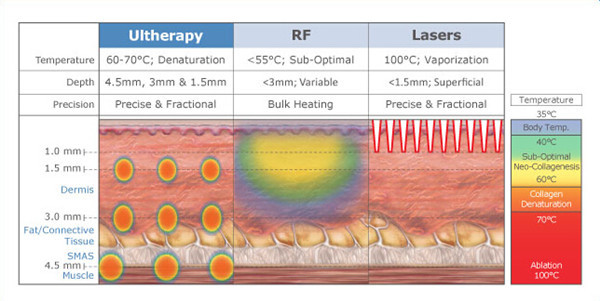 Layered energy emission transmission :
1: DS-4.5D 4MHz frequency used to transmitter high-energy focused ultrasound to the skin, subcutaneous tissue, the ultrasound to penetrate to the skin to a deep of 0.45mm,direct to subcutaneous SMAS layer, forming "heat coagulation"regional, targeted to thick skin,such check,etc..

2: DS-4.55 7MHz frequencies used to transmitter high-energy focus ultrasound to the skin, subcutaneous, the ultrasound to penetrated the skin to a depth of 0.45mm, direct to subcutaneous SMAS layer, targeted to thinner skin ,such as the forehead, chin and neck.

3: DS-3.0 for transmitting high frequency of 8MHz focus ultrasound energy to the dermis layer of the

skin tissue, the ultrasound to penetrate the skin to a depth of 3.0mm, is responsible for activating the skin's Latestl layer of collagen, effectively enhance the effect of the consolidation of the outline, but also improve large pores and reduce the appearance of wrinkle.

4: DS-1.5 10MHz frequency used to transmitter high-energy focused ultrasound to the epidermis tissue, the ultrasound to penetrate the skin to a depth of 1.5mm, is responsible to activating the skin epidermis in thinner tissue.
Strong Points of the HIFU
Superficial ,deel dermis and SMAS(Superficail Muscular Aponeurotic System).
Trbeautye layer lifting effect system
High peak power ,Shortening procedure time.
Patients' high satisfaction
High quality,low consumables
More accurate procedure due to Exact Focusing Technology.
Specification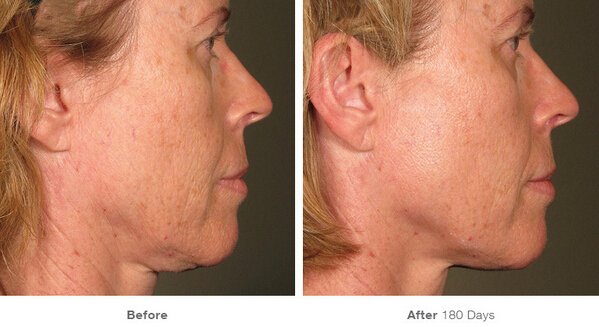 Ubicación :
303Floor, No.15 Building, No.113, the south of Huadi Avenue, Liwan District Guangzhou, 510385 Guangdong
,
Persona a contactar :
chuangfeng chen
,
86 20 81495407
Buen trato: comprar del vendedor
Visita nuestra guía para una transacción segura! En ningún caso Algomtl no se hace responsable de los anuncios. Sólo la responsabilidad del vendedor o del comprador en caso de litigio está involucrado.
Por favor, lea nuestras condiciones de uso. También puede visitar nuestras
preguntas frecuentes
y ver nuestra información sobre los riesgos relacionados con la falsificación.
Domingo 25 febrero 2018
Cantidad : 50 - Precio : 20 $
Fabric 100% polyester with water, wind and dust repellent coating Color Any color, as per demand. Lining 100% polyester or 100% nylon or as per customer demand Zip Original YKK nickel brass, 5no. Size Extra small to 6xl Fitting Slim fit or as per customer demand, Customer can also...
51040 - Sialkot
+92 5 26 55 60 32
+923216137778
Jueves 21 diciembre 2017
Cantidad : Producteur - Precio : 1,00 €
Bonjour ; la Sarl BCB producteur de la chaux et la dolomie, vous propose ses produits : chaux vive de très haute qualité et la dolomie. nos prix sont tres compétitifs a l'echelle local est international, nous proposons aussi une gamme d'emballage utile a toute fin. pour plus d'information...
47000 - ghardaia
+21 3 29 24 99 42
+213555003181
Sábado 15 febrero 2020
https://www.duplexplates.com/ldx-2101-plate-sheet-supplier.html LDX 2101 Plate is a duplex grade stainless steel with comparatively low composition of alloyed elements. S32101 Steel Plate has high mechanical strength comparable to other duplex grades. 2101 Duplex Steel Sheet is...
000000 - Sharjah
+97 1 65 59 45 45