B2B Servicios
Best sales XKTE nylon cage bearing 6305 TN/C3 for mining machinery idler from china bea...

Precio : 0.43 USD/piece
professional commitment to conveying machinery bearing
Passed Certifications- ISO9001: 2015
Product tested by National Coal Science Institute and Provincial QualityIn spection Center
Deep groove ball bearing 6305 TN/C3, or single row radial, ball bearings, used as conveyor idler beairng, It usually consist of a pair of rings, a retainer, a single row of steel balls. Its structure is simple, easy to use, non-separable, It is the most widely used type of bearing. This type of bearing is mainly used to bear radial load, but it can also bear a certain amount of axial load in either direction.
We are a manufacture specialized in producing bearing for conveyor roller. bearings also have a clearance value. This provides the bearing room for expansion between the bearing races and will add a small amount of play between the two rings. large clearance C3/C4 usually used in mining machine.
| | |
| --- | --- |
| C1 | Smaller than C2 |
| C2 | Smaller than Normal |
| CN | Normal |
| C3 | Greater than Normal |
| C4 | Greater than C3 |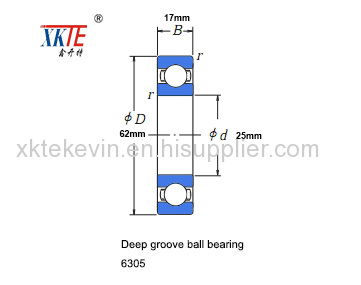 | | | | | | |
| --- | --- | --- | --- | --- | --- |
| Structure: | Deep Groove | Type: | Ball | Brand Name: | XKTE |
| Bore Size: | 0 - 25 mm | Outside Diameter: | 0 - 62 mm | Model Number: | 6305 TN/C3 |
| Precision Rating: | ABEC-1 | Seals Type: | Open | Number of Row: | Single Row |
| Place of Origin: | Shandong, China (Mainland) | Certificate: | ISO9001: 2015 | Material: | Chrome Steel GCR15 |
| Weight: | 0.232kg | Application: | Conveyors | Service: | OEM Customized Services |
| Feature: | Long Life | Width: | 17mm | | |
Professional brings quality, detail creates success
XKTE bearing's most fundamental difference is:
The other manufacturers make products considering the price cheap, but we make products considering the service life. Each of the idler roller bearings we produce is fully implemented in the national standard. XKTE bearings exist for their quality and brand. You can deny our price, but you can never find out our products' defects in quality. XKTE conveying machinery bearing, a big brand, is worthy of your trust.
The most important in the running of the conveyor is the idler roller. And the most important part of the idler roller is bearing. That is to say the selection of bearings is the top priority of the idler roller accessories.
Let me share with you, about what the details of the processing does a good idler roller bearing have got. How to identify idler roller bearing?
First, the identification of the bearing
For the low cost pursue, some small manufacturers print the black stamps on the bearing to identify models and manufacturers, with some very simple equipments, electro etching solutions, and very simple templates. Because of the low cost, it is used by some inferior products.
Formal manufacturers use laser engraving. The stamps are deep, have significant dents with hand touch, good-looking, with no breakpoints, and are never disappeared. This obviously improves the bearing grade.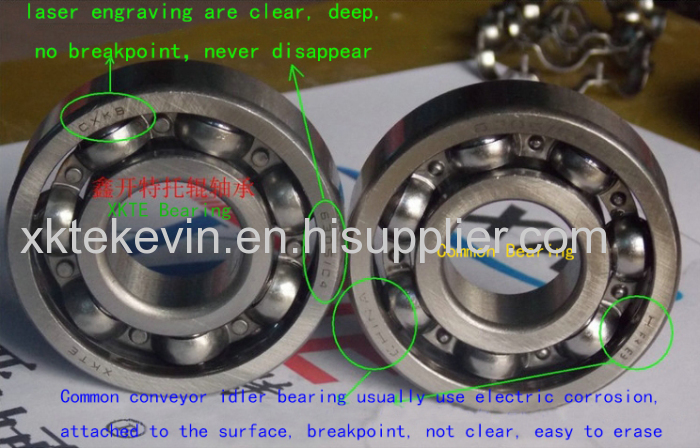 The use of bearing retainer
Bearing retainer selection is very important. Because once too much dust stuck into the bearing, the retainer will be first worn. If the bearing retainer is broken, the bearing will be directly broken. Imported bearings use big rivets to thicken retainers. XKTE bearing is completely in accordance with the process of imported production, so each piece of ours is made to a high quality, and guaranteed to operate for thirty thousand hours.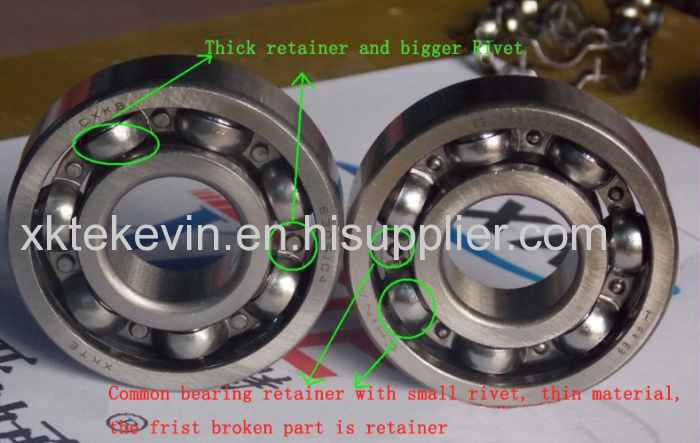 Selection of nylon retainer
Nylon retainer bearing is often used in the mine. Nylon retainer has better anti-stuck performance and wider range of temperature than iron retainer. In the underground its anti-static performance is also better. To get safety certificate for coal mining products must use nylon retainer KA bearing. The selection of nylon retainer is crucial to KA idler roller bearing, while the material of nylon retainer must be pure and has enough toughness and strength, because the retainer will get very soft if it is made of bad material or mixed material, thus to make no anti-stuck performance within the bearing.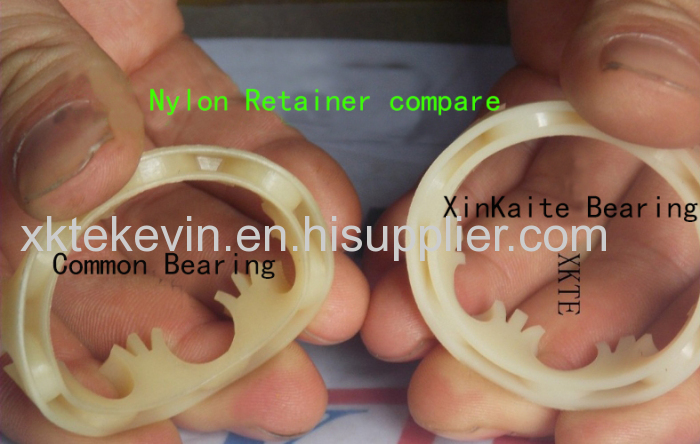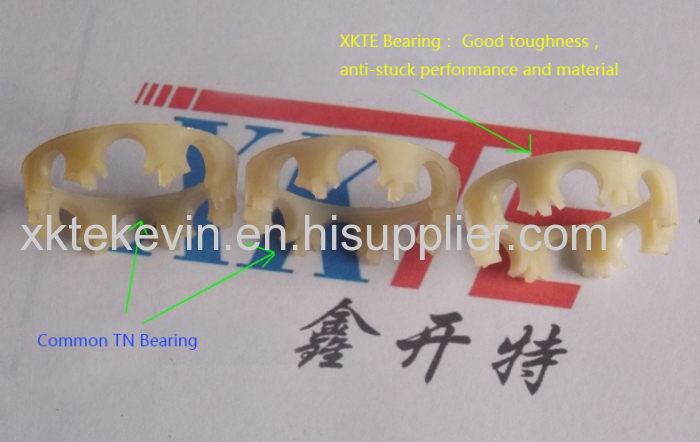 The ring is the main part and the important part of the idler roller bearing. Best idler roller bearing has deep groove ball, and large clearance. But deep groove doesn't mean to dig the channel with a simple way of enlarge the steel ball. The thickness of the bearing is certain, so to get the ball big and the groove deep will shorten service life. Our XKTE bearing uses way of thickening ring to get the standard of deep groove and large clearance, improves the anti-stuck performance, and effectively increases the service life.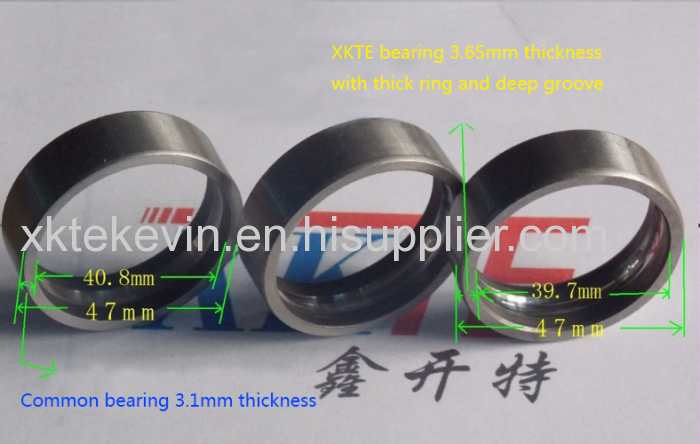 Bearing material and hardness
Good idler roller bearing must be made of bearing steel, named "High Carbon Chromium Bearing Steel (Fully quenched class) GCr15". At present the standard hardness of idler roller bearing is 60-65 degree, while hardness of ring is 61-62 degree, andball is 64-65 degree.
The simple way to identify idler roller bearing is to see if its hardness is over 60 degree, because only bearing steel can get over this degree.
Inner ring is thicker than Common bearing,with a deeper groove
Grease selection of roller bearing
Many customers ignore this most critical point. The thirty-thousands-hours operation is a very long term. This has to be guaranteed by enough quality and quantity grease. And this should also be taken into account of working in different seasons.
Special note: please choose special high temperature grease if working environment is over 120 °C for long time or low temperature grease if it below -20 °C.

Our Factory:
Shandong XinKaite Bearing Co. Ltd. is located in Yandian of Liaocheng in mainland China. Our company concentrates on manufacturing conveyor machinery bearings, including deep groove ball bearing, TN bearing, spherical roller bearing and self-aligning ball bearing. and also idler roller, idler roller accessories, and 0 class bearing.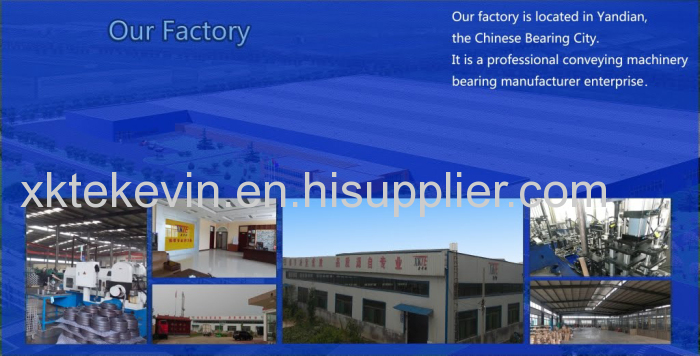 We enjoy high states in the industry because of our products' high quality and low price, and professional stability.
Supply Ability: 1000000 Pieces / per Month
We have our own Brand name XKTE, all of our products are made of Chrome Steel GCR15, continuous working for more than 30 thousand hours ensured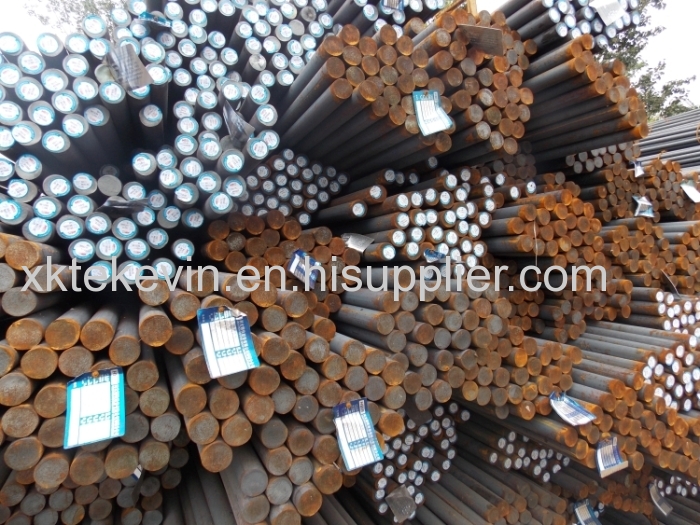 Started in 2006, formerly Shandong Guan County XinKai bearing Co. Ltd., our company relies on the Yandian professional bearing market, pushes the business to market domestic and abroad. And there are many long-term fixed partners of ours within the areas centered by conveyor machinery bearing industry. With our company's gradually growing, from the rough to the bearing, we set up a one-stop production line. Thus to make our products have a very high market competitiveness.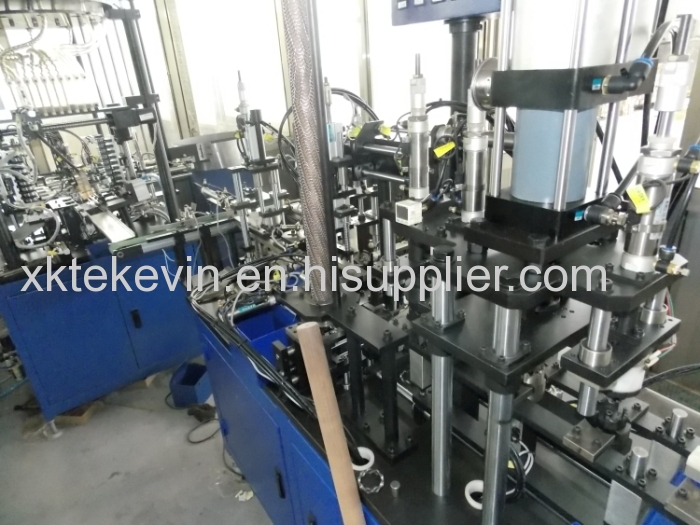 Certifications:
Product tested by National Coal Science Institute and Provincial Quality Inspection Center
CertificationsISO9001: 2015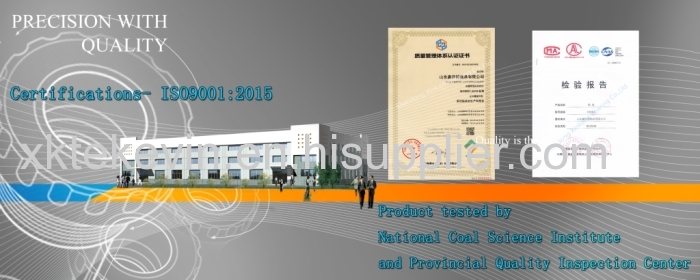 Tel: +86-0635-5638235
Mobile: +86-15688862750
Email: 02@xinkaite.com
xkte@xinkaite.com
Skype ID: xktekevin
website: www.xinkaite.com
Address: Xu VillageIndustrial Garden,Gan Town,Guan County, Shandong
Ubicación :
Beixiaoxinzhuang W St., 250022 Jinan
,
Persona a contactar :
Kevin Zhang
,
+86 15688862750
Buen trato: comprar del vendedor
Visita nuestra guía para una transacción segura! En ningún caso Algomtl no se hace responsable de los anuncios. Sólo la responsabilidad del vendedor o del comprador en caso de litigio está involucrado.
Por favor, lea nuestras condiciones de uso. También puede visitar nuestras
preguntas frecuentes
y ver nuestra información sobre los riesgos relacionados con la falsificación.
Esta página es acerca de los importadores y exportadores de
Best sales XKTE nylon cage bearing 6305 TN/C3 for mining machinery idler from china bea...



Buscar en la categoria :

B2B Servicios
Buscar en la categoria :
cage, sales, xkte, best, bearing, nylon, mining
Sábado 08 enero 2022
4 capas a prueba de agua reutilizable Incontinencia cojines de cama (lavables Bajo pads) reutilizable Bajo pad 430 a 460 gr / m² membrana PU Tejido: 100% poliéster Capacidad de Absorción: 2,6 l / m² 4 capas funcionales laminan entre sí Para la incontinencia pesada o medio Resistente...
34160 - Istanbul
00905358815802
Jueves 05 mayo 2016
Cantidad : 500 litres - Precio : 600 euro
OLIO DI FICO D'INDIA Questo olio esotico ha una combinazione unica di componenti: un livello eccezionale di acidi grassi essenziali omega 6 e omega 3, un contenuto abbondante dei tocoferoli (più di 1000 mg/kg) e la presenza di stigmasterolo di delta 7, una componente singolare incontrata...
7000 - BIZERTE
+21 6 72 42 24 83
Domingo 15 julio 2012
Cantidad : 30 - Precio : 165,00 €
Disfrute de las nuevas incorporaciones semanales paletas tiendas de descuento compuesto de numerosos artículos en todos los medios de comunicación. Los lotes pueden consistir en ropa de hogar, accesorios de moda, multimedia, bazar, curiosidades, funda nórdica, bolsa de viaje, manteles...
22440 - PLOUFRAGAN
02 46 56 50 40
06 95 75 75 01