Bienes de equipo
Bulk Blending Granule Fertilizer Mixing Equipment

Cantidad : 1 set Precio : 100.00-99999.00 USD
1.Brief introduction
The system will automatically weigh and blend as per the different formula (recipes), then automatically filling into various size bags to package. Each dump station has the dust collector, the whole system are enclosed and reduce the materials contacting with the moisture air. All parts contacting with the material are industrial stainless steel with special painting and anti-arc bridge device to efficiently solve the problem of sticky, caking, bridge, and collapse etc. This system is fully automatic control, easy operation and maintenance.
2.Specification
Output: 2-10tons per hour (on the base of 25kgs per bag)
Kinds of raw materials: 3-8kinds of powder ingredients, normally N, P, K and micronutrients, such as Zn, Mn, Fe, etc. The crushing machine for grind the big cakes of raw materials
Packing capacity: 1kg~5kg, 10kg, 20kg, 25kg per bag. It can accord to customer's requirements
Batching scale Accuracy: ≤±0.2 %( static weighing scale)
Bag closing: automatic packing by heat sealing or sewing machine
Power supply: 3 phase 380V 50Hz ±10%
Air supply: 0.55-0.65MPa
Working temperature: -30℃ - +45℃
Working humidity: <85% (No frost)</span>
3. Application
The automatic water soluble fertilizer production line combines urea crushing, batching, blending, packaging, de-dusting system into one whole.
4.Function Features
a.The raw materials of the water soluble fertilizer are the most fine powder or crystal. The feeding method can be chosen belt feeder or screw feeder.
b.All parts contacting with the material are industrial stainless steel with special painting and auti- arcbridge device to efficiently solve the problem of sticky, caking, bridge, and collapse, etc.
c. Weighing and blending speed fast, reduce the materials contacting with the moisture air. It affectively solve water soluble fertilizer easy getting moisture problem.
d. The batching system can store multiple formulas and formulation can be flexible changed.
Standard export containers. Bare main machine, motors and small parts are packed in cases. We can also pack them according to your requirement.
1. Before Sales
Communicate with customers to ensure that the products design can match the customers' demand in usage and function. Besides, our company has engaged some senior experts specialized in the soil fertilizer to provide technical guidance to customer.
2. During Sales
Make sure the selection of related materials during production is strictly carried out on the basis of contract. Furthermore, we will guide our customers how to install and adjust machine on site for free and train them how to correctly use and maintain the machines.
3. After Sales
The warranty period for complete machines (excluding wearing parts) is one year since the contact goods delivery time, providing professional technology support within and after the warranty period and promptly supply spare parts and wearing parts by ordinary price. We provide lifelong technical supports to our customers.
1. Advantages
a. SANNONG Modern Mechanical Equipment Co.,Ltd is the member of the National Fertilizer Standard Committee, the holder numbers of the National Patents, the leading corporation for product innovation and technology upgrading in fertilizer machine industry in China from the day of its foundation.
b. With more than 13 years manufacturing and designing experience, CE & ISO certifications.
c. We are a professional fertilizer equipment manufacturer's factory; we can design the machine according to customer's requirements with a competitive price, high quality and the best after-sales service.
d. We consider quality as the fist.
e. We provide customers with process design, equipment manufacturing, installation and commissioning within one-stop services.
2. Main products
Bulk blending fertilizer production line
Water soluble fertilizer system
Fertilizer granulator machine
Mixer machine series
Drum screening machine series
Powder automatic packing machine series
Full automatic packing machine
Mobile belt conveyor
Bucket elevator series
3. Customer visiting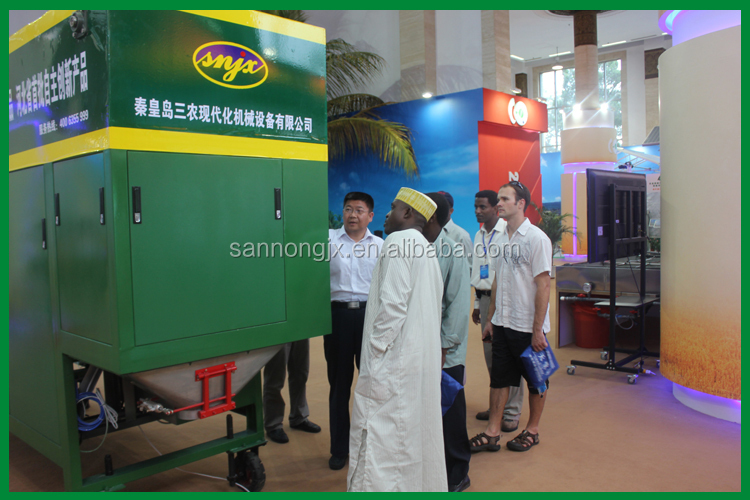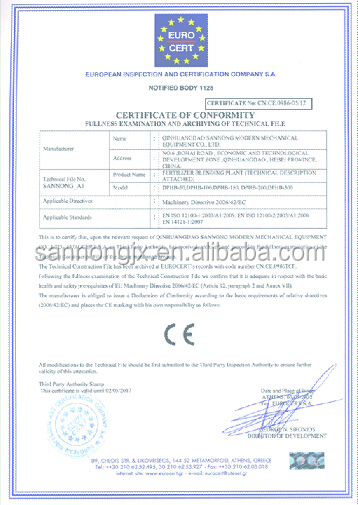 If you have any demands, pls contact us freely, we will reply you within 24 hours. Welcome friends from all over the world come to our company to negotiate cooperation together!
Looking forward to hearing from you.
Ubicación :
No. 6 Bohai Road, Development Zone, Qinhuangdao, Hebei, China, 066004 Qinhuangdao
,
Persona a contactar :
Leah Meng
,
86 335 49749449
Buen trato: comprar del vendedor
Visita nuestra guía para una transacción segura! En ningún caso Algomtl no se hace responsable de los anuncios. Sólo la responsabilidad del vendedor o del comprador en caso de litigio está involucrado.
Por favor, lea nuestras condiciones de uso. También puede visitar nuestras
preguntas frecuentes
y ver nuestra información sobre los riesgos relacionados con la falsificación.
Viernes 14 junio 2019
Cantidad : 1000 - Precio : 35,00 €
STOCK DE 1000 SURMATELAS - bfly Surmatelas 5 cm en Mousse à Mémoire de Forme Respirant, avec Housse Amovible en Aloe Vera, Effet Massage Hauteur 5 CM Orthopédique, Antiallergique, Housse en Aloe Vera, 15 Ans Garantie (140X190) - - EXTRA CONFORT: le surmatelas est conçu pour ajouter...
Miércoles 13 febrero 2019
Cantidad : 1 - Precio : 22 000,00 €
accuvix a30, establishes a new benchmark for state-of-the-art imaging, offering the world&aposs first 21.5-inch full hd led monitor, enriched 3d performance, increased detection rates, unparalleled automation, a sensitive interface and a forward-looking ergonomic design. features...
77056 - Houston
3254537597
Viernes 03 julio 2020
U8301 is a wireless module which is designed for the global market. It is a consumptive product; it can be designed in many kinds of applications which can work on LTE-FDD/WCDMA/EDGE/GPRS/GSM network. On LTE-FDD network, U8301 enables connect to the Internet at DL data speed up to...
235 - New Taipei City
+886 2 8221 6389