Vehiculos
Changjiang 250CC motorcycle sidecar

ITEM DESCRIPTION
Rolled with a plastic paper into a cube steel shelf, and then covered by steel net.
Weight after packing: 460kg/piece
Size after packing: 2200×1600 × 1270mm3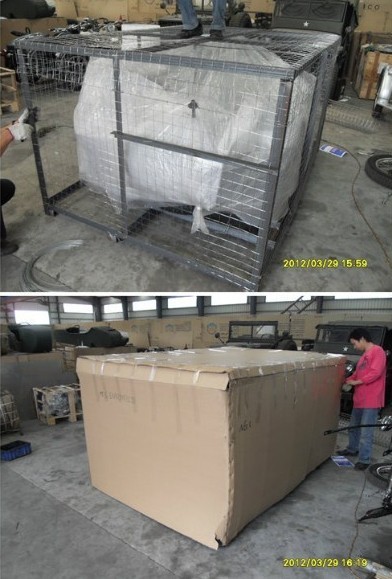 Optional Kits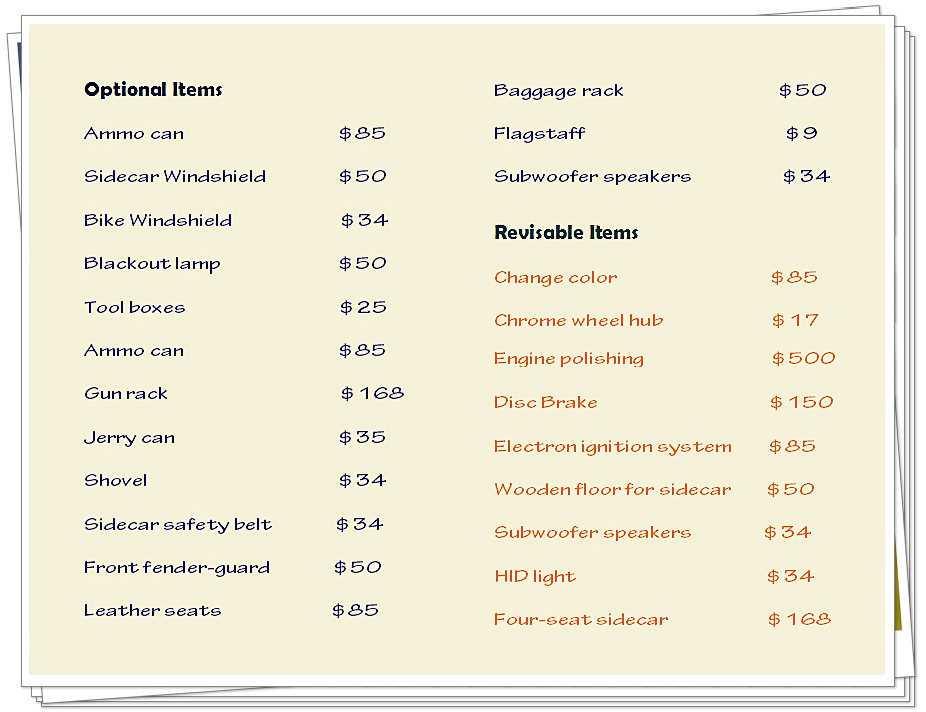 Technical Data
Product Catalogue
1)125CC, 200cc, 250cc,300cc, 350cc, 600cc, 750cc sidecars
2) electric sidecars/cars/KAINDUDU sidecars
3) 250cc engine, 650CC ,750cc engines.
4) sidecar/motorcycle accessories and parts.
Ubicación :
Zhuzhou City, Hunan Province, China, 412000 Zhuzhou
,
Persona a contactar :
Sunny Tang
,
+86 13762331533
Buen trato: comprar del vendedor
Visita nuestra guía para una transacción segura! En ningún caso Algomtl no se hace responsable de los anuncios. Sólo la responsabilidad del vendedor o del comprador en caso de litigio está involucrado.
Por favor, lea nuestras condiciones de uso. También puede visitar nuestras
preguntas frecuentes
y ver nuestra información sobre los riesgos relacionados con la falsificación.
Viernes 01 enero 2021
Cantidad : 1000piece - Precio : 1,00 €
Pure organic argan oil from Morocco in handmade oriental bottle Min.Order Quantity: 50 Piece/Pieces MOQ for private labeling : 100 Piece Supply Ability: 20000 Liter/Liters per Week Port: FOB Casablanca /Tanger MED / Agadir Payment Terms: L/C,T/T,Western Union,MoneyGram Quick Details...
40000 - marrakesh
+212524335449
+212651925398
+212600604387
Miércoles 14 septiembre 2016
Cantidad : 500 - Precio : 50,00 €
Swing Check Valve DIN Standard Swing Check Valves (DIN 3202 F6 ,DIN 3202 F1) DIN F6 Swing check valve DIN F1 Swing check valve DIN Rückschlagklappe DIN Válvula de retención clapeta oscilante DIN Zpětná klapka stavební délka dle DIN EN558-1 serie 48 & serie 1 DIN Standard...
59590 - Henri Durre
86 577 67953935
Martes 22 octubre 2019
Cantidad : 1000 - Precio : 5,60 €
SPRAY DRIED INSTANT COFFEE POWDER (H1.1 H1.2 HC2 HC3 HR01 HR04) - PRODUCTION DISCRIPTION Pray dried instant coffee of AnThaiCafe been used from safe materials achieve the best quality and modern production processes, retain the aroma and taste characteristics of products to meet...
70000 - Ho Chi Minh City
+84 9 31 37 44 32