Bienes de equipo
Fertilizer Batching and Blending Fertilizer Making Machine with CE and ISO Certificates

Precio : 100.00-99999.00 USD
Floor Batching and Blending Fertilizer Plant
1.Application
To produce bulk blending fertilizer
2.Structure
The bulk blending fertilizer production line include the following systems
1). Raw material bin
2). Automatic proportioning system
3). Belt conveyor
4). Elevator
5). Fertilizer mixing and blending system
6). Automatic weighing and bag-sewing machine unit
7). Automatic control cabinet.
3.Description
1)Intellectual weighing controller
2)Auto feeding compensation
3)Auto zero adjustment
4)Coarse and fine feeding speed adjustable.
5)Data setting easy adjustment
6)High speed CPU data processing
7)It is suitable for harsh environment with high level protection grade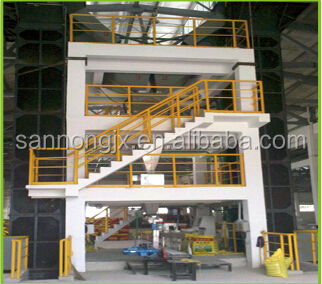 Before sales
Communicate with customers to ensure that the products design can satisfy customers demand in usage and function. Besides, our company has engaged some senior experts specialized in the soil fertilizer to provide technical guidance to customer.
During Sales
make sure the selection of related materials during production is strictly carried out on the basis of contract. Furthermore, we will guide our customers how to install and adjust machine on site for free and train them how to correctly use and maintain the machines.
After Sales
The warranty period for complete machines (excluding wearing parts) is one year since the contact goods delivery time, providing professional technology support within and after the warranty period and promptly supply spare parts and wearing parts by ordinary price. We provide lifelong technical supports to our customers.
Advantages
1.SANNONG is the members of National Fertilizer Standard Committee, the Holder of numbers of National Patents,the leading corporation for product innovation and technology upgrading in fert ilizer machine industry in china from the day of its foundation.
2.With more than 13 years manufacturing and designing experience with CE and ISO certificates.
3.We are a professional fertilizer equipment manufacturers factory, we can design it acco rding to per customers require. With competitive price, high quality and the best after-sales servic e.
4.We consider quality as the fist and can provide your guarantee
5.We provide customers with process design, equipment manufacturing,installation and comm issioning, with one-stop services.
Main products
Bulk blending fertilizer production line
Water soluble fertilizer system
Fertilizer granulator machine
Mixer machine series
Drum screening machine series
Powder automatic packing machine series
Fully automatic packing machine
Mobile belt conveyor
Bucket elevator series
If you have any demands,pls be feel free to contact with us, and we will reply you with 24 hours.Welcome friends from all over the world come to our company to negotiate cooperation together!
Looking forward to hearing from you.
Ubicación :
No. 6 Bohai Road, Development Zone, Qinhuangdao, Hebei, China, 066004 Qinhuangdao
,
Persona a contactar :
Leah Meng
,
86 335 49749449
Buen trato: comprar del vendedor
Visita nuestra guía para una transacción segura! En ningún caso Algomtl no se hace responsable de los anuncios. Sólo la responsabilidad del vendedor o del comprador en caso de litigio está involucrado.
Por favor, lea nuestras condiciones de uso. También puede visitar nuestras
preguntas frecuentes
y ver nuestra información sobre los riesgos relacionados con la falsificación.
Sábado 23 septiembre 2023
grupo electrógeno
Cantidad : 100 - Precio : 115,00 €
Aprovecha la oportunidad en un lote de herramientas eléctricas portátiles nuevas; generador, compresor, destornilladores, máquina de soldar, motosierra... Incluyendo este generador, disponible en un contenedor por solo 115€/pieza. Por favor, no dudes en contactarnos para cualquier pregunta adicional. Localisation : 2b rue des Cheminots, 22440 Bretagne, Personne à contacter : Pascal Le Mée, Tél/whatsapp : 336 03 67 05 05 Ubicación : 2b rue des Cheminots, 22440 PLOUFRAGAN, Persona...
22440 - PLOUFRAGAN
02 30 96 63 26
33(0)603670505
Sábado 15 mayo 2021
Cantidad : 20 - Precio : 700,00 €
- Xaar XUSB Drive Electronics System XP55500016 - Xaar's XUsB drive electronics (de) system is a flexible, cost-effective, easy-to integrate solution designed to drive Xaar's complete range of market leading printheads. The XUSB DE minimises the cost and resource issues faced by...
20211 - Medan
081222403027
Jueves 06 octubre 2022
Le laboratoire WILSON LABO un laboratoire pas comme les autres dont le but principal est de venir en aide aux personnes qui ont des problèmes des billets de banque sécurisés ( noirs, verts, bleus, rouges ) cherchant une solution efficace et ouvre ses porte pour toutes vos questions...
20000 - casablanca
+212690112086