Bienes de equipo
Fully Automatic Bag Applicator and Packing Machine

Precio : 100.00-99999.00 USD
This automatic bag applicator and packing machine has the function of automatic bag suppl ying and applicating,filling and bag conveying etc.The main parts use SIEMENS S7-200 226 controller and SIEMENS touch screen with advanced automation and working reliable ability.It features that big output and easy operation and maintenance, save the labor. It widely used in various industry.The ma chine weighing by load cell and the feeding system are vibrating method with fast filling speed and gain good accuracy. Put the bag into bag storage station, the bag gripper take the bags to filling p ort, and load the bag on the port of bag clamp, at the same time the packing machine has been automa tic weighing well, when bag load on, it will automatic filling.
Specification
weighing range: 20-50Kg
suitable material: granule
Power: 10kw 380V±10% 50Hz
weight: 4500kg
packing speed 8-12bags/Minute
Weighing accuracy: ±40g to ±60g
bag material: weave bag,paper bag or PE bags
compressed Air: 0.6-0.9Mpa
Advantages
1.Machine is fully controlled by PLC& touch-screen.
2.Minute capacity can automatically display on Touch screen.
3.Film transport system and horizontal Jaw motion both driven by servo motor.
4.Safe quick change of tube and collar.
5.Optoelectronics detect film position on collar to correct film excursion.
6.All parts contact with the materials is stainless steel.
7.Electrical photo sensor inducting color code to control bag length.
8.independent temperature adjustment& code printing.
9.Unique Pneumatic Film-Reel locking structure to avoid film drawing deflecting.
10.independent temperature adjustment& code printing.
11.Various types of heating sealable laminated films namely PE/BOPP, CPP/BOPP, CPP/PET, PE/N YLON, aluminum foil based can be run on the machine.
12.Can equipped with hole punching system to puch hole on the bag for handling.
Process
Feeding by elevator (the top bin)→Setting the weight on the control panel→Auto weighing→filling packing→Finished product output (product conveyor)
Operating Principle
1.Automatic scale: The main components are storage bin, vibrating feeders, load sensors, scale hopper, open hopper mechanism, setting required weighing by manual through the control interface, after open the start button, the vibrator from storage bin will sent the materials to the scale (with the sensor on it), after reaches the set value, release the material from the open open hopper mechanism, continue to the next round of the weighing.
2.the control panel: control the machine, start / stop, setting the weight, with a window displays the current weight value.
3.packing machine: The packaging materials (coil) conducted bag, servo motor cross sealing, operation interface is the touch screen, PLC control, all the major components of imports.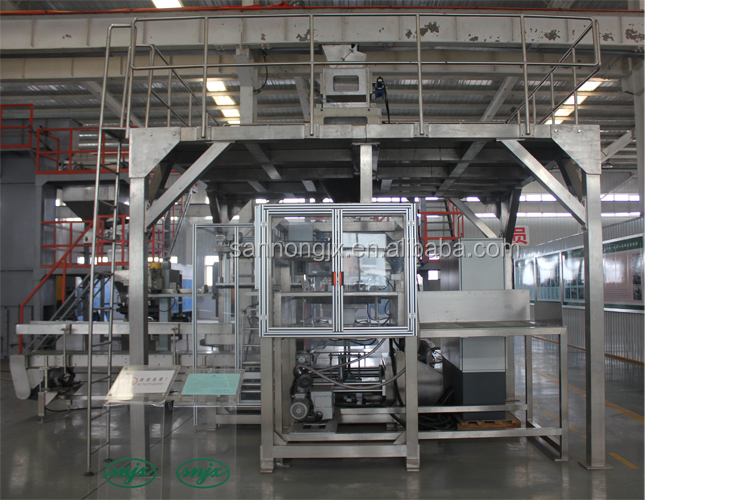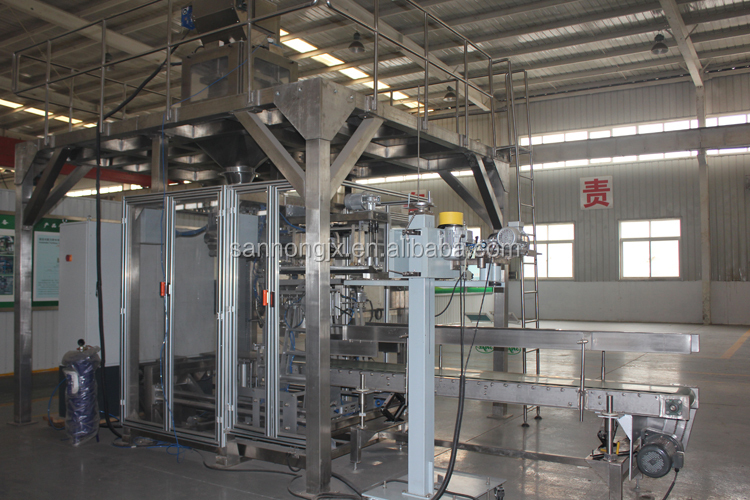 Before sales
Communicate with customers to ensure that the products design can satisfy customers demand in usage and function. Besides, our company has engaged some senior experts specialized in the soil fertilizer to provide technical guidance to customer.
During Sales
make sure the selection of related materials during production is strictly carried out on the basis of contract. Furthermore, we will guide our customers how to install and adjust machine on site for free and train them how to correctly use and maintain the machines.
After Sales
The warranty period for complete machines (excluding wearing parts) is one year since the contact goods delivery time, providing professional technology support within and after the warranty period and promptly supply spare parts and wearing parts by ordinary price. We provide lifelong technical supports to our customers.
Advantages
1.SANNONG is the members of National Fertilizer Standard Committee, the Holder of numbers of National Patents,the leading corporation for product innovation and technology upgrading in fert ilizer machine industry in china from the day of its foundation.
2.With more than 13 years manufacturing and designing experience with CE and ISO certificates.
3.We are a professional fertilizer equipment manufacturers factory, we can design it acco rding to per customers require. With competitive price, high quality and the best after-sales servic e.
4.We consider quality as the fist and can provide your guarantee
5.We provide customers with process design, equipment manufacturing,installation and comm issioning, with one-stop services.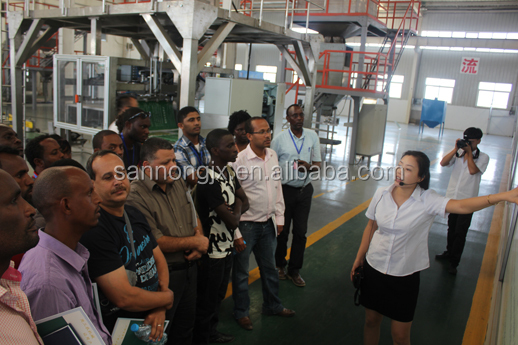 If you have any questions, please feel free to contact me.
Looking forward to hearing from you.
Ubicación :
No. 6 Bohai Road, Development Zone, Qinhuangdao, Hebei, China, 066004 Qinhuangdao
,
Persona a contactar :
Leah Meng
,
86 335 49749449
Buen trato: comprar del vendedor
Visita nuestra guía para una transacción segura! En ningún caso Algomtl no se hace responsable de los anuncios. Sólo la responsabilidad del vendedor o del comprador en caso de litigio está involucrado.
Por favor, lea nuestras condiciones de uso. También puede visitar nuestras
preguntas frecuentes
y ver nuestra información sobre los riesgos relacionados con la falsificación.
Sábado 23 septiembre 2023
grupo electrógeno
Cantidad : 100 - Precio : 115,00 €
Aprovecha la oportunidad en un lote de herramientas eléctricas portátiles nuevas; generador, compresor, destornilladores, máquina de soldar, motosierra... Incluyendo este generador, disponible en un contenedor por solo 115€/pieza. Por favor, no dudes en contactarnos para cualquier pregunta adicional. Localisation : 2b rue des Cheminots, 22440 Bretagne, Personne à contacter : Pascal Le Mée, Tél/whatsapp : 336 03 67 05 05 Ubicación : 2b rue des Cheminots, 22440 PLOUFRAGAN, Persona...
22440 - PLOUFRAGAN
02 30 96 63 26
33(0)603670505
Sábado 20 agosto 2022
亚克力冰箱磁铁 亚克力冰箱贴是礼品店、纪念品店、餐厅等的绝佳选择。它也是一个很好的促销或广告商业 工具。亚克力磁铁有不同的形状和尺寸,包括动物形状、水果形状等。这种磁铁很容易做成 你喜欢的任何设计和形状。 更重要的是,它可以定制您自己的标志或其他特殊设计。您可以使用我们的免费设计服务或 提供您自己的设计。我们很容易到达,非常友好,并且热衷于制造高端产品并保证最好的质 量。 无论您是想制作不同材料、尺寸、形状和颜色的品牌徽标钥匙扣以进行促销,还是想根据自 己的喜好定制自己的产品,我们公司随时为您服务。 我们为您提供 OEM/ODM 服务和设计解决方案!我们不仅提供高品质的产品,而且以有竞争力的价格...
200000 - shenzhen
+86 18929304795
Viernes 15 septiembre 2023
Digimore POS Keyboard, KB-6868-MSR, features an enhanced keyboard layout with a built-in 3 tracks magnetic stripe reader for use in banking Point of Sale application and secure Credit Cards. This full-sized keyboard is designed for any desktop, kiosk, office, or warehouse. Antimicrobial...
100 - Taipei
886 2 2311 3299