Vehiculos
High configure army yellow customize motorcycle sidecar

ITEM DESCRIPTION
Packing Detail
Rolled with a plastic paper into a cube steel shelf, and then covered by steel net.
Weight after packing: 460kg/piece
Size after packing: 2400×1600 × 1150mm3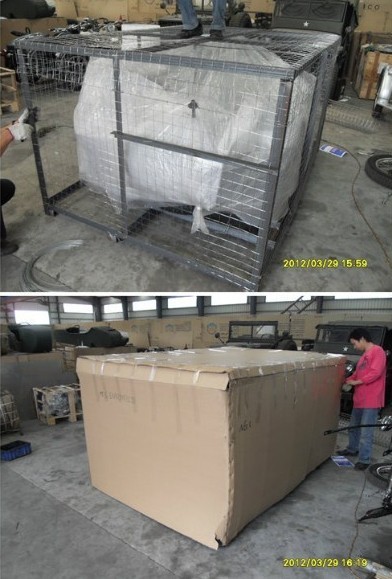 Optional Kits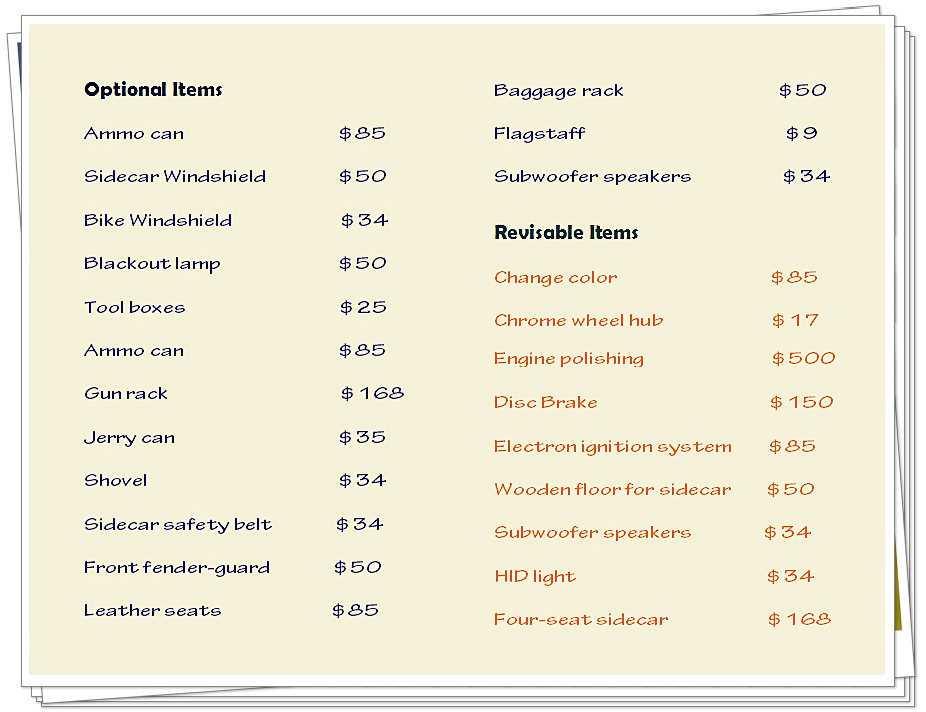 Technical Data
Product Catalogue
1)125CC, 200cc, 250cc,300cc, 350cc, 600cc, 750cc sidecars
2) electric sidecars/cars/KAINDUDU sidecars
3) 250cc engine, 650CC ,750cc engines.
4) sidecar/motorcycle accessories and parts.
Ubicación :
Zhuzhou City, Hunan Province, China, 412000 Zhuzhou
,
Persona a contactar :
Sunny Tang
,
+86 13762331533
Buen trato: comprar del vendedor
Visita nuestra guía para una transacción segura! En ningún caso Algomtl no se hace responsable de los anuncios. Sólo la responsabilidad del vendedor o del comprador en caso de litigio está involucrado.
Por favor, lea nuestras condiciones de uso. También puede visitar nuestras
preguntas frecuentes
y ver nuestra información sobre los riesgos relacionados con la falsificación.
Miércoles 02 septiembre 2020
Nuestra empresa es la mayor exportadora y proporciona la más confiable y servicios profesionales de abastecimiento de cátodos de cobre disponibles. Nuestra empresa es distribuidores de cátodos de cobre legítimos y Liscens y solo trabajan con compradores verificables de cátodos de cobre...
00255 - Kinondoni
+225674896095
Viernes 16 agosto 2019
HLP Klearfold: The Visual Packaging Innovator and Market Leader HLP Klearfold is the clear packaging specialist… the company manufactures visual packaging exclusively and has been doing so for over 40 years. It is the world's largest and most accomplished producer of plastic folding...
510810 - Shenzhen
718 554 3271
Miércoles 29 julio 2020
Cantidad : 1500/matri - Precio : 280,00 €
- Get Special offer NOW on Everest Wheat flour - Product Description Brand Everest Flour Type 100% Wheat flour Wheat type High quality hard wheat Purpose Cake, Bread, Bakery, Biscuits... ... .. Protein 11.5% min Gluten 12% Moisture 14% MAX Ash 0.65 MAX Detailed...
002 - Cairo
00201220066112
00201220066110